Vanity Scare Haute Haute Haute
Posted on September 05 2016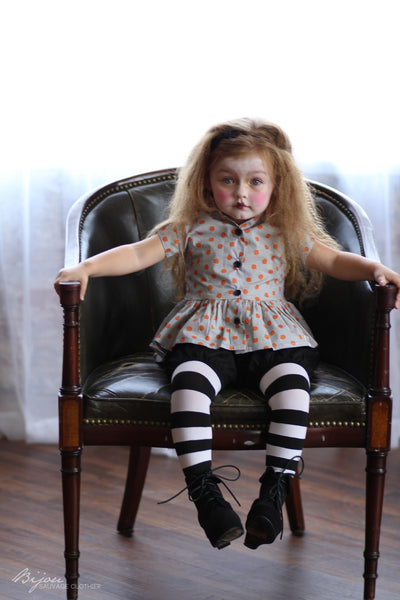 Tammy and I wanted to approach our halloween collection a little differently than what we are accustomed to seeing in the marketplace.  We wanted classic halloween color ways, but we wanted stuff that could be worn after the holiday - and it had to be pretty!  Don't get me wrong, we love a themey halloween outfit as much as the next mama...but we really wanted to create pieces we could wear throughout the fall season.  We are beyond thrilled with how this collection turned out - the pieces are all beautiful and festive,  the names are so fun, and that photo shoot - I die!  
Anyone who knows me even a little, knows I LOVE HALLOWEEN - I'm like Martha Stewart level of celebrator when it comes to Halloween.  The house is obnoxious, we host a huge block party, I force Rob to dress up in some humiliating costume, and the 4 littles go on hay rides and trick or treat and we eat candy for the next 2 months straight!  What's not to love!?  I have been thinking about our halloween release and photoshoot since Easter I think!  Creepy broken dolls in gorgeous garments...yes please!
We are so blessed and lucky to have the talented Heather Dobos and her beautiful daughter, Harper, here in Houston, now.  She graciously agreed to allow Harper to model with our girls for this shoot-- and she brought her camera!  I didn't have to take one picture.  I'm obsessed with everything about it.  The lighting, the cheap striped tights from Amazon, Scout's "terrible" shoes, my new crimping iron, Tammy's mama's creepy pony...all came together magically to create this spooky but beautiful campaign.  The girls were all super cooperative ( Rosie has her limits - ya'll know this), the new studio space was perfection, and Heather worked her magic!  Thank you! Thank you! Thank you!  You seriously brought our vision for this release to life <3 
We will see you all Wednesday night at 8pm CST for the release of our Vanity Scare Icon Collection - Jackie - O - Lantern Maddox dress, The Hallow's Yves Saint Laurent Dylan Peplum, and the Marlene Dietrich or Treat Sloane.  
Good luck and cheers to a Haute Halloween!
xoxo,
Kris & Tammy
Scout's shoes 
https://www.amazon.com/gp/product/B00K6UIO5C/ref=oh_aui_detailpage_o00_s00?ie=UTF8&psc=1
Harper's shoes
https://www.amazon.com/Martens-Infants-Brooklee-Boots-UK-Infant/dp/B00FGT0WDA/ref=sr_1_7?s=apparel&ie=UTF8&qid=1473132872&sr=1-7&nodeID=7141123011&keywords=black+patent+youth+doc+marten
Monroe's shoes
https://littleskyechildrensboutique.com/pepe-shoes-pepe-black-patent-ballet-flats
The Girls' striped tights
https://www.amazon.com/gp/product/B00EYKQQ7I/ref=oh_aui_detailpage_o00_s00?ie=UTF8&psc=1