All Grown Up
Posted on October 03 2016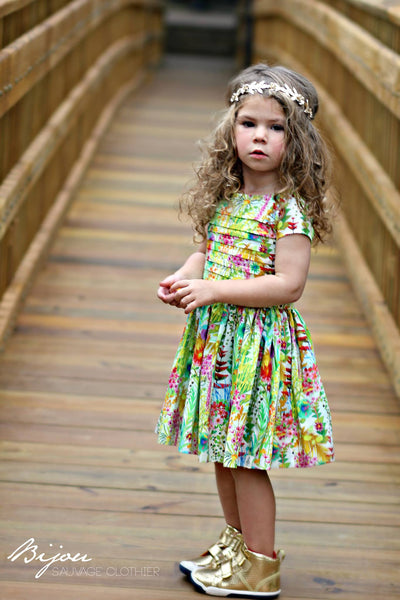 I haven't blogged in a few weeks and I've missed you guys!  We are busy busy with life and our fall collections.  We received several finished design packs this week of some of our new styles with all of our yummy fall and holiday fabrics - seriously amazing stuff in the works!  We are so crazy excited about what we have coming this fall/winter, it's difficult to focus on what's coming right now!  I think we both feel kind of like we sort of know what we are doing these days - like we are real grown ups - and we are finding a new groove managing several teams in several cities, new members joining the Bijou team (welcome Laura!) and  working on multiple dresses and seasons at once.  All while mom-ing and stuff!  I know I have said it a million times before, but we seriously would not be able to do Bijou if we didn't have each other, our families and an amazing support system in our friends.  
Let's talk about Dru! She is so lovely, if I do say so myself.  We are super proud of the Olympus Dru collection and are so excited for Tuesday's release.  Dru is our latest version of one of our favorite silhouettes to date, one of our first Bijou babies, The Tatum.  The Dru is a lot more detailed and technically complicated than the Tatum was, and it's pretty amazing for us to see how one of our first designs kind of evolved and grew up into a big girl.  This silhouette is pretty much the same as Tatum, I changed the sleeve to a little crew sleeve, and we lengthened it for the season, but it just feels very different - more elevated and refined.  This dress is so beautiful on girls of all ages and truly fits like a glove.  We love this dressed up or down and it is a wonderful staple year round.
When we were choosing fabrics for this collection, we knew we wanted to play off of the pleating detail of the bodice, and "busier" prints and patterns do magical things on the bodice when broken up and texturized.  We certainly didn't invent this "accordion pleat", but the use of the prints we chose make it feel new and fresh to me, and I couldn't be happier with the overall collection.  I am obsessed with the Asteria fabric and the pop of coral liner and purple buttons up the back - yum!!
Speaking of Collections - naming or "theming" a release is probably my favorite part, besides seeing the actual pieces in the wild on your babies.   It's important for us to try and be inventive and creative (on fried brain and exhaustion) and try and tie it all together, plan an epic photoshoot, and deliver fun new imagery for each release.  Tammy and I don't think about names when we design a collection (I mean that makes entirely too much sense, right?)... and we usually have that Aha moment when we start planning and brainstorming for a release ...not so much this time.  
Coming up with a unifying theme and names for Dru was probably the most challenging to date.  Up until 2 days before we planned to announce release, they all had completely different names!  We just couldn't get zebras and toys and constellations and flowers to jive together.   The zebras, the Athena dress, was the most difficult to name.  We were on a Billboard chart-topping songs tangent, and believe it or not, there aren't a whole lot of songs about zebras.    Drops of Jupiter (yes!), Hey There Delilah (yay!)... and... we got nothing.  Then we decided we would highlight the Athena dress being our Breast Cancer awareness dress and it would be named "Fight Like a Girl"...(which I still love by the way Mary Ray) but then, what do we call the capsule? Stop and smell the flowers?  And toys?  The struggle is real!  Ya'll know if we ever announce a dress naming contest it's because we failed at doing it ourselves!  (We were close on this one) A dear friend of mine suggested we name the toy dress Pandora...which was perfect, and suited it, and voila we have a theme, we have a collection, we have magic.  
Athena was named after the Goddess of war - a tribute to so many women warriors we know who have fought breast cancer, are fighting breast cancer, have survived or have lost their battles to this devastating disease.  The disease hits very close to home for us.  We are grateful to be able to contribute on behalf of Bijou and each of you to the Susan G. Komen foundation - the leading foundation dedicated to the education, research, treatment, and the search for a cure for breast cancer - with proceeds from the sale of our Athena dress.
 We can't wait to see you all Tuesday night for the release of our Pandora, Athena, Asteria & Aphrodite Dru dresses.  The Olympus Collection lands at 8pm CST on our website www.bijousauvageclothier.com
xoxo,
Kris & Tammy