Is that a Sasquatch!?
Posted on July 05 2016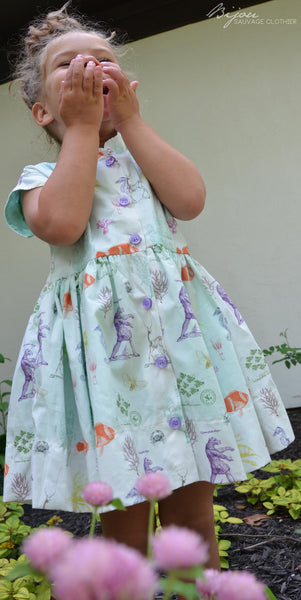 I hope you all are having an amazing summer with your kiddos and had a fun and safe Fourth of July Celebration!  We are just getting back from vacations and spending a little time together away from Bijou.  It's sometimes difficult to balance work life and kid life during these months our babes are all home from school, but we are chugging along at full speed -- and beyond excited for what we have in store for you all!
For now, Let's talk about Capsule pieces -- Lord knows everyone else is!  So this Smithsonian Maverick is by far one of my favorite dresses we have ever produced.  The Maverick style is probably my favorite design to date.  It is named after my second son, and it suits his personality to a T!  It's effortless and casual, but still has a little drama and flare resulting in a super versatile dress the girls can wear anywhere - who doesn't love the perfect modern shirt dress?!  This silhouette is classic, timeless and reminds us so much of Lucille Ball with a hint of Stepford!
The fabric we chose for the Smithsonian is one Tammy, our self-proclaimed science nerd, and I have pined over for a long time.  It's weird, it's interesting, it's incredibly soft and beautiful in real life, and ...it's expensive!  We, as a company, knew we couldn't afford to make a regular run of this dress and knew our retail price would have to be pretty steep to justify the cost of our materials.  We decided to introduce the capsule collections so we could use fabrics like this one, in much smaller quantities, without going bankrupt!  
We know that the market for $135 "Sasquatch" (it's really a bear) dresses featuring Nemo and chartreuse bumblebees is probably pretty small.  We aren't crazy (well maybe a little), but we figure there are at least 6 other people out there that will love it just as much as we do.  (If not, I guess our girlfriends will all be getting really nice Christmas presents this year.)  It is definitely not a conventional fabric choice for a little girl's dress - we know.  We didn't introduce these OOAK dresses to get wealthy, we did it to scratch an itch.  We did it because we can.  We make OOAK dresses for our girls all the time, with crazy good fabrics, and wanted to share the love!  Some of the capsule fabrics we have stashed are seriously breathtaking... mermaids, lions and maybe even some fun back to school prints!
We produce everything right here in the U.S.A., and unfortunately it's expensive to do so.  We aren't a brand that will compromise quality, notions, trims, details, ideas or fabric to always maintain a certain price point or always target a specific market.  I know we aren't the brand for everyone.  I have been entrenched in this industry long enough to know at least that, but we certainly wish we could be.  
We are so excited for tonight's release!  This collection is some of our best to date, if I do say so myself.  Each piece is different and gorgeous in its own right.  This little Maverick dress is perfect for all of summer's adventures, or getting ready to go Back to School (one more month ladies- hang in there!)  We appreciate each and every one of you who support us - indulge our crazy dreams - and we sincerely can't wait to see you all tonight!
XOXO,
The Bijou Gals