Amigos do Caxmba: A Safe Haven
Posted on December 28 2017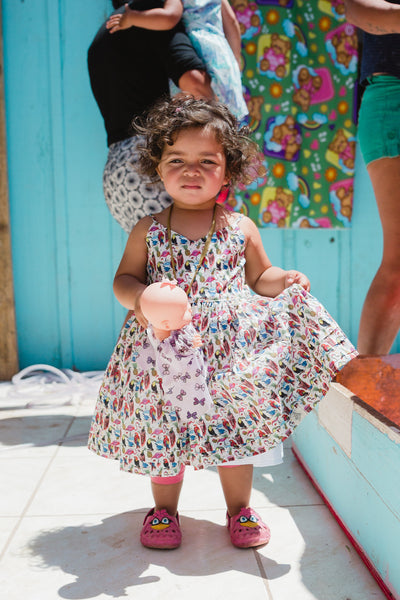 We started Bijou Sauvage in part for our daughters.  Not only to clothe them in beautiful dresses, but also to serve as an example of the strong empowered women they can become.  We hope they will learn from our mistakes and grow from our example.
When our dear friend Ana told us the story of Caximba, we felt a need to do all we could to help these precious kids and families.  Caximba exists on a landfill at the edge of Paraná state's capital city of Curitiba. Because the township was built up around the landfill without permission, Caximba residents are not acknowledged by Curitiba officials. City services and electricity are non-existent; access to transportation and clean water is extremely limited. For the children in this under-served community, the counseling, food, and shelter offered by Amigos do Caximba provides a welcome refuge away from a life of drugs, prostitution, and crime.
We knew a partnership with Amigos do Caximba would give our work as designers a purpose beyond fashion and empowerment. We have been inspired not only by our own strong daughters and every girl in our Bijou Sauvage community, but by the girls of Caximba as well.  We believe every girl deserves a safe place, access to an education, and the self-confidence which comes from feeling powerful and beautiful. Working alongside Amigos do Caximba with educational support and clothing donations was an easy decision for us, and we are so proud to play a part in this movement. Every child deserves the same opportunities regardless of race, color, sex, class, age, or country, and we believe we can all do our part. Whether the action is seen as large or small, each positive action shines a light and lifts a burden, creating opportunity and hope.  
We feel honored to donate funds to expand Amigos do Caximba, a library and community center for youth in the impoverished Caximba neighborhood in Curitiba, Brazil. The funds will support a much needed construction project, enabling Amigos do Caximba to build two classrooms, two restrooms, and a roof. The Bijou Sauvage donation will also allow the center to purchase books and other learning materials for the library.
We are inspired by the work begun by Edilaine Lima, a Caximba local, who opened her home as a shelter for local youth. Now, after helping more than four hundred children, Edilaine's Amigos do Caximba safe haven has outgrown her home.  She continues to provide meals, counseling, and activities for children from a building nearby.
In addition to the construction fund, we were also able to provided more than $56,000 worth of dresses to help clothe the girls of Caximba. Our vision expands beyond girls' dresses into community empowerment, especially the idea of raising girls to be strong, independent women.  We are humbled by the opportunity we have been given to help better lives of those living in Caximba.
Love, 
The Bijou Sauvage Family