We're Backkkkkk!
Posted on January 02 2017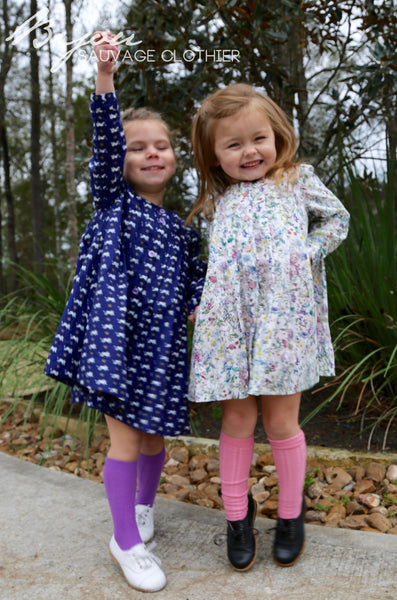 We hope you all had a wonderful holiday season with your friends and families.  I don't know about ya'll but I'm having some major sugar withdrawals and dreading the extra hours I earned in the gym over the last few weeks. I am also having Bijou withdrawals.  Tammy and I enjoyed our time away, but are elated to enter 2017, and excited to be back in business this week with the release of our new Ryan collection.  
Our Ryan dresses come to us from a new production team...don't worry we aren't planning to change from our old team - they are incredible...it was just a new growth opportunity for us to try and increase our production capabilities.  With any new team comes new personalities and growing pains and learning curves...It's very much like dating a new person and stumbling through and figuring out new processes -- learning each other.   The quality on these dresses is impeccable. It is what we expect and what you guys have come to expect from us.  The issue is in the pattern grading/cutting.  There was obviously miscommunication between all of the moving parts, and they just aren't consistent or up to our standard in measurements.   
I'm super bummed that our sizing isn't perfect on these, we worked so hard on this collection and perfecting the pattern, it's impossible to not be disappointed when it isn't just perfect.  Despite all that, the collection is still very beautiful and we are excited and proud to share it.  I don't know if I have a favorite, but Casterly rock epitomizes Bijou Sauvage for me and might be ahead of the pack by just a titch.  The entire collection offers fresh new fabrics, a new silhouette I adore, and we hope they do not disappoint.  
 We have so many exciting plans and new goals and challenges for ourselves and our little company in the coming year.   We are only a few short months away from celebrating our one year anniversary since we launched our first piece ...can you guys believe it has been a year since sweet Charlie?!  I can't.  
Tammy and I came to a tough decision recently to change our return policy across the board starting with this next release.  We are one of the few boutiques around that offer a return policy and we have come to understand why most don't.  Preparing for every release takes weeks, between running QC, doing inventory, measurements, size charts, tagging, bagging, photoshoots, marketing... It's a ton of work.  Not to mention the time we spend packaging and shipping all the lovelies out to you guys.  Once we release a garment or collection, we are already prepping the next.  We don't get a ton of returns, honestly, but any at all is just getting to be too much work on top of our growing loads.  We essentially have to "re-do" all the work we did prior to its initial sale to get it ready to sell again, and then re-ship, etc.  Effective as of Jan 1, all sales will be considered final (not just on our Discount Den items) - exchanges will not be available, cancellations will not be made, and we will no longer be accepting returns.  We hope you all can understand our decision and we apologize for any inconvenience this may cause. 
Here's to 2017, we cant wait to see you all Tuesday night at 8 pm CST for the release of our Game of Thrones themed Ryan dresses - The Westeros Collection, featuring The Vale, Highgarden, Sunspear, Casterly Rock & Winterfell!  Which one is your favorite? 
xoxo,
Kris & Tammy